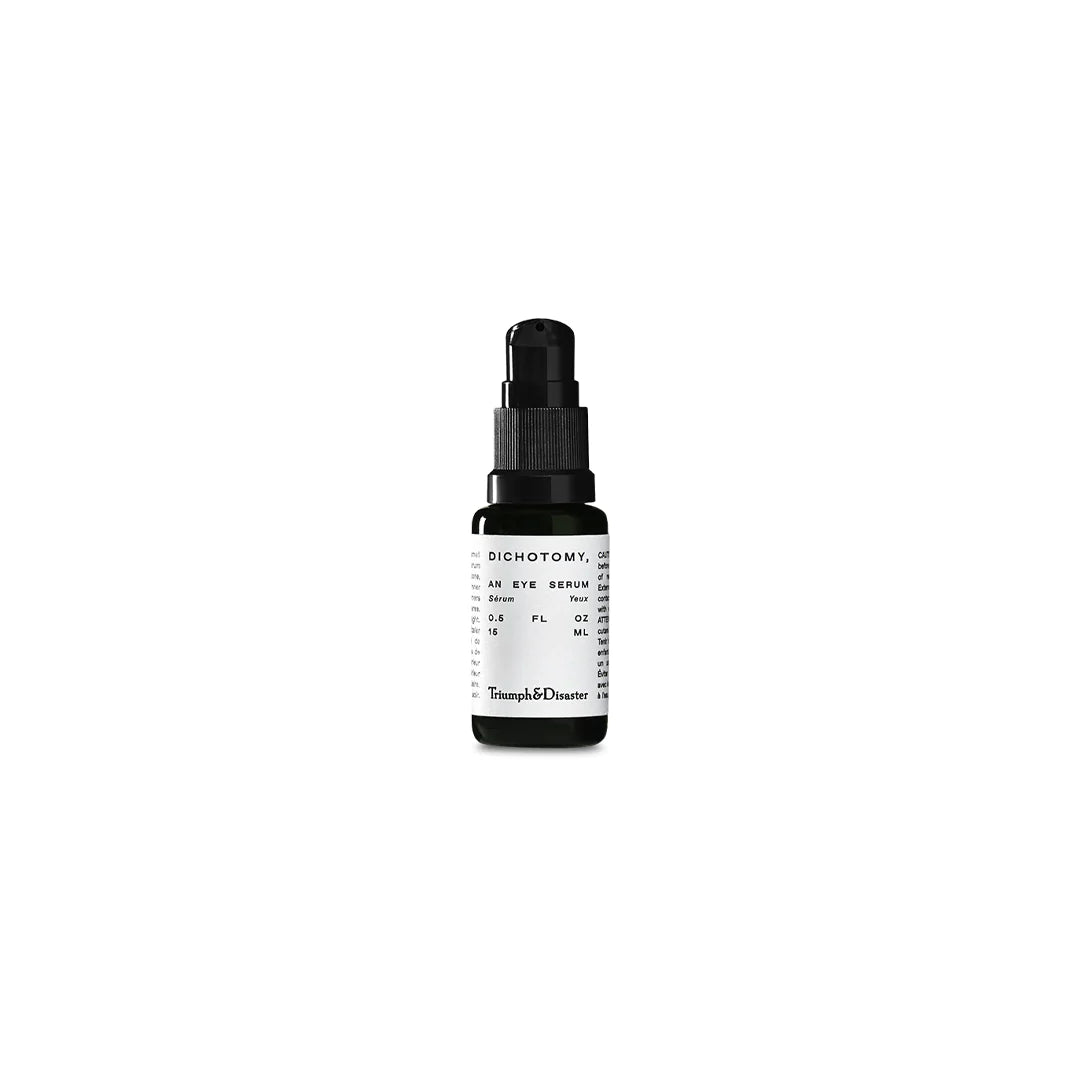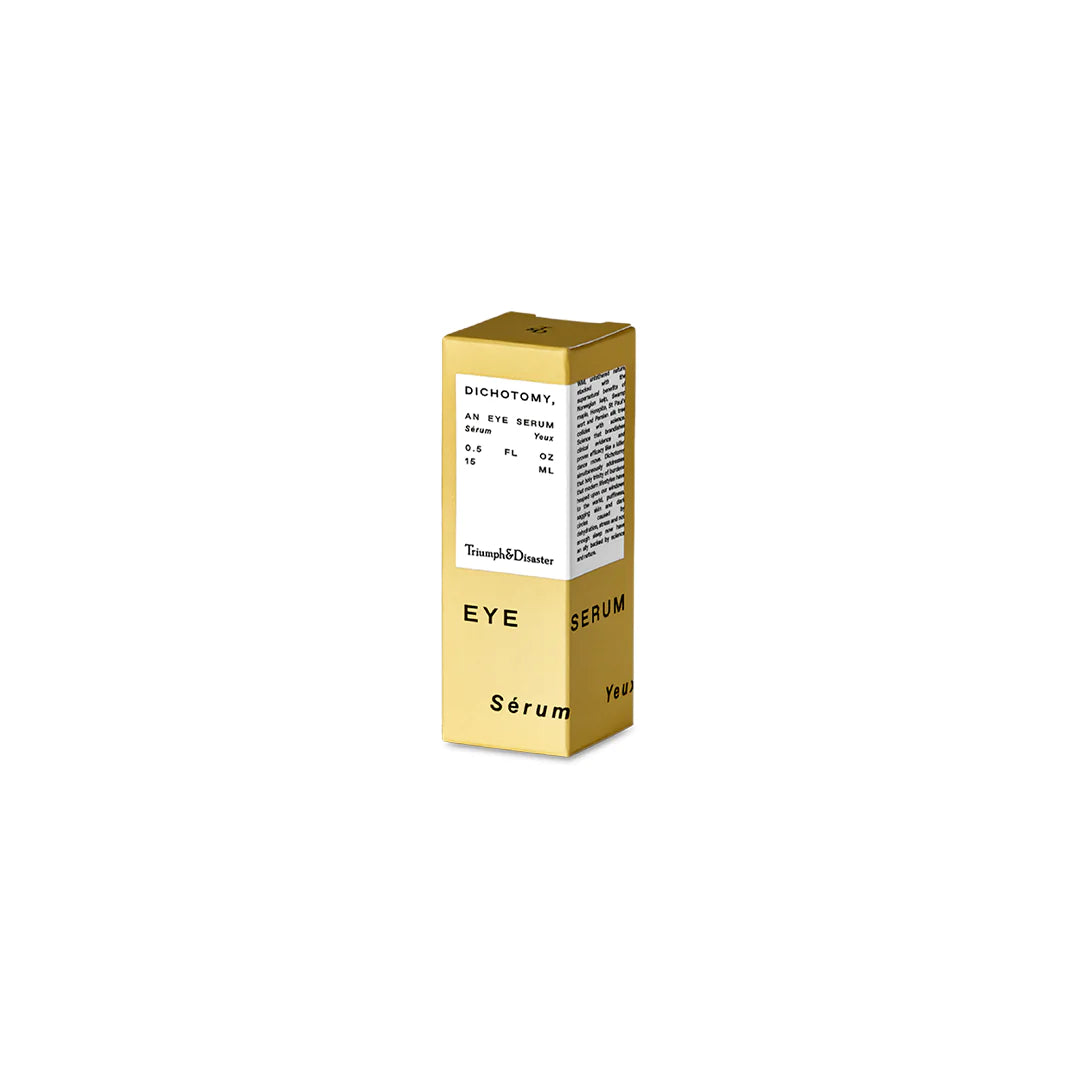 Dichotomy Eye Serum 15ml
Sale price

€60,00
Regular price
(/)
Stacked with the supernatural benefits of Norwegian Kelp, Swamp Maple, Horopito, St Paul's Wort and Persian Silk Tree. Clinical evidence and proven efficacy.
HOW TO USE: Dot a small amount of serum around the orbital bone, working from the inner to the outer corners of the skin around your eye area.
THINGS YOU NEED TO KNOW
Norwegian kelp and Persian silk help Dichotomy to reduce sagging skin and dark circles caused by dehydration, stress and not enough sleep.
Dichotomy optimizes hydrous flow and moderates water circulation, reducing unnecessary puffiness caused by modern lifestyle excesses.
Dichotomy supports collagen production, provides tensile support to blood vessels and improves skin elasticity. Crucial to maintaining healthy skin around the sensitive areas of the eyes.
Dichotomy promotes the synthesis of essential lipids and proteins essential to healthy, youthful looking skin.
Attacks crow's feet by boosting elasticity and improving firmness of the sensitive skin around the eyes.
KEY INGREDIENTS
Kakadu Plum Fruit Extract (Terminalia Ferdinandiana) - Used medicinally for thousands of years by indigenous Australians, Kakadu plum is believed to possess the most Vitamin C of any food on Earth; Being up to 100 times that found in an orange. Vitamin C is a potent antioxidant and vital nutrient in slowing the aging process. It is crucial for the production of prolin, an amino acid essential to create collagen.
Norwegian Kelp (Ascophyllum Nodosum) - Predominantly found in the North Atlantic Ocean (near Norway). Traditionally used for its nutritive and skin soothing properties. Being rich in minerals like Potassium, Calcium, Magnesium and Iodine, it's awesome for hydration and is anti inflammatory when applied on the skin as a firming, healing and strengthening agent.
Persian Silk Tree (Albizia Julibrissin) - Persian Silk tree bark is an awesome and effective organic extract that is really expensive. Seriously it is one of the most expensive skincare ingredients doing the rounds due in a large part to its proven effect on soft skin, most noticeable on sagging eyelids. Persian Silk tree extract genuinely appears to slow the skins ageing process, like a veritable spring of eternal youth.
Swamp Maple Bark Extract (Acer Rubrum) - Maple bark extract is a naturally occurring active ingredient with clinically proven pro-collagen and pro-elastin properties. Swamp Maple stimulates dermal regeneration by increasing collagen production while inhibiting collagenase enzyme synthesis that degrades collagen with age. Clinical studies reveal the complete and long-term efficacy of this polyphenolic extract with measured wrinkle amplitude reduction as well as visible effects expressed with before and after treatment documentation.
Horopito (Pseudowintera Colorata) - Found only in Aoteoroa (New Zealand), Horopito is one of the worlds oldest flowering plants, surviving for over 65 million years thanks to its natural chemical defence system. Rich in antioxidants, Horopito has withstood the knocks, lasting ice ages and droughts that wiped out many less robust species. Its properties like these that make it a fantastic toning and conditioning agent.
Rosemary Extract (Rosmarinus Officinalis) - A powerful natural antioxidant that provides protection against UV stress and glycation and reduces the accumulation of skin damage over time, for healthy looking skin. Stunning long-term oil preservation. Rosemary extract is a powerful oil stabiliser with anti-rancidity and natural anti-oxidation properties that help in the protection of skin collagen and elastin fibres. It also enhances elastin and hyaluronic acid production.
INGREDIENTS: Aqua (Water), Glycerin, Squalane (Olive), Sodium Acrylates Copolymer, Xylitylglucoside, Terminalia Ferdinandiana (Kakadu Plum) Fruit Extract, Ascophyllum Nodosum (Norwegian Kelp) Extract, Asparagopsis Armata Extract, Albizia Julibrissin (Persian Silk Tree) Bark Extract, Saccharide Isomerate, Sodium Hyaluronate, Acer Rubrum (Swamp Maple) Bark Extract, Anhydroxylitol, Xylitol, Pseudowintera Colorata (Horopito) Leaf Extract, Tocopherol (Vitamin E), Sorbitol, Darutoside, Lecithin, Helianthus Annuus (Sunflower) Seed Oil, Rosmarinus Officinalis (Rosemary) Leaf Extract, Trisodium Ethylenediamine Disuccinate, Phenoxyethanol, Ethylhexylglycerin, Citric Acid, Sodium Citrate.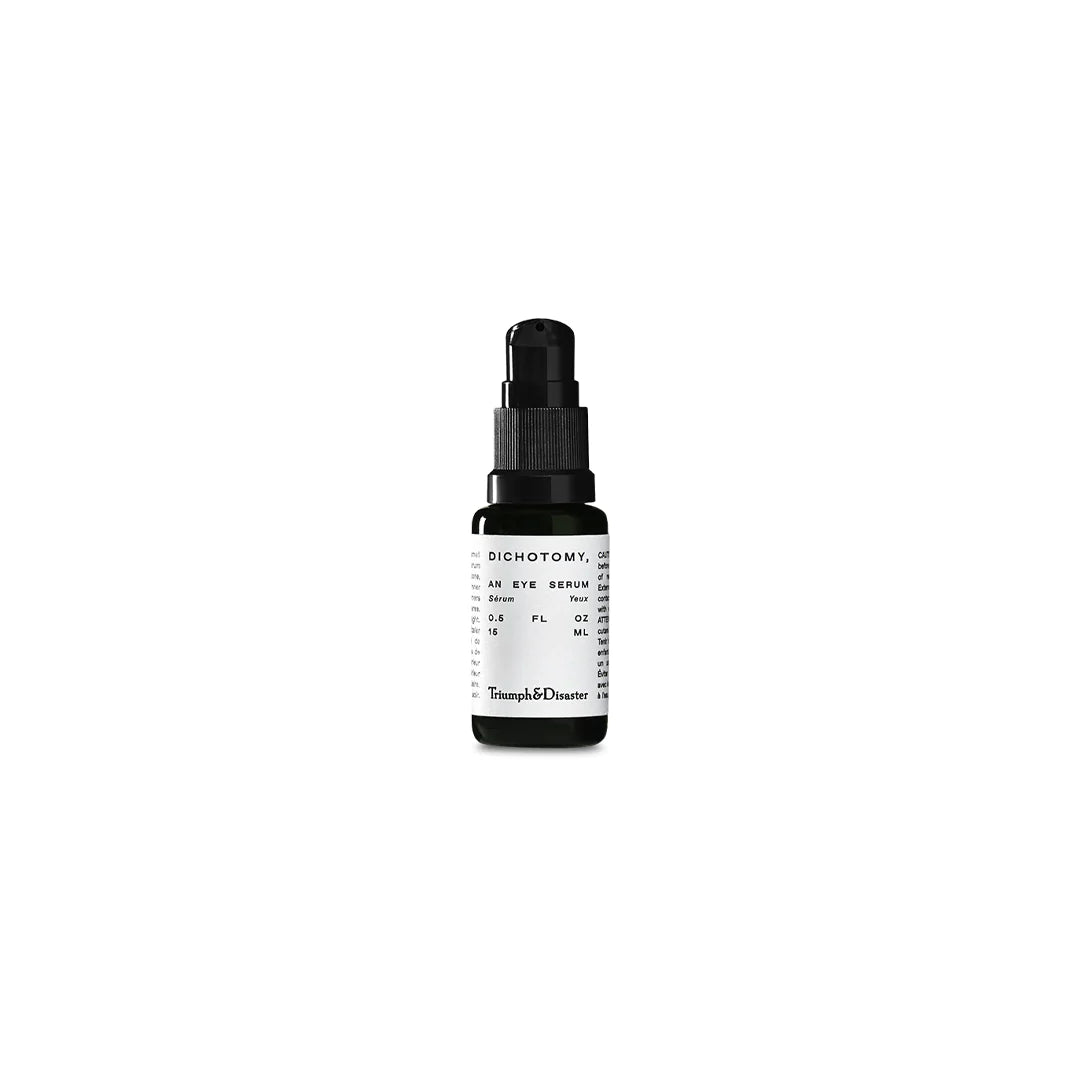 Dichotomy Eye Serum 15ml
Sale price

€60,00
Regular price
Choose options